News
Research For Life
We've only just begun
By Graham Malaghan, Chairman: 16 August 2016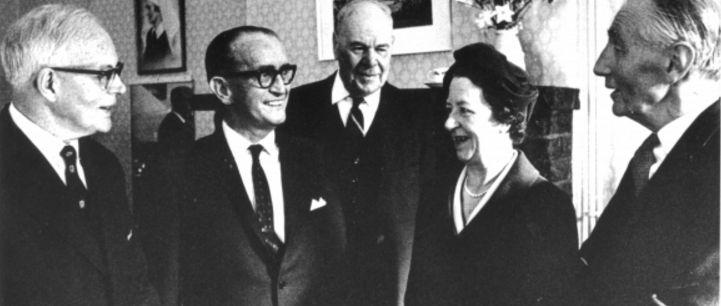 Pictured above: Celebrating the Len and Ann Malaghan donation in 1967. From left: Dr G. MacLean, Mr Len Malaghan, Mr B.R. Law (Chairman Wellington Medical Research Foundation), Mrs Ann Malaghan, Sir Charles Burns
My father, Len Malaghan, was diagnosed with Hodgkin's disease in 1962. Len's treatment exposed him to the benefits of new drugs as well as the dedication and commitment of the cancer specialists. This experience was formative in demonstrating the benefits of undertaking research in New Zealand, and Len decided to make a difference.
In 1966 the Wellington division of the Cancer Society and the Wellington Medical Research Foundation established a fund for medical research. Len and my mother Ann made a donation of General Foods Corporation (N.Z.) Limited shares worth $200,000 to the Institute the following year.
On Christmas Day 1967, my father died. By the mid-1980s, the shares had grown significantly in value. In 1984 and 1985, Ann made further gifts for research equipment that enabled the Institute to progress.
My mother and our family were approached in 1986 to endorse changing the name of the Wellington Institute of Cancer and Medical Research to the Malaghan Institute of Medical Research. We were honoured and delighted to agree. It has been a pleasure to see the Institute flourish since its beginnings 50 years ago, the name change 30 years ago, the arrival of Drs Graham Le Gros and Franca Ronchese in 1994 and since I assumed the chair in 1989. It is now the country's leading independent medical research organisation, focussed on finding cures for cancer, asthma, allergy and infectious diseases.
Our journey is just beginning. I would like to heartily thank everyone who has been involved in the first 50 years. We stand on their shoulders as we move into the next 50.