Media Release
Research For Life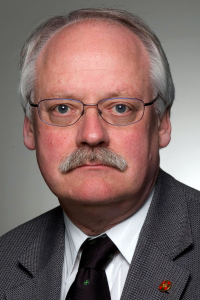 2018 Hercus Medal - Advances in prostate and kidney cancer

Professor Brett Delahunt ONZM FRSNZ has been awarded the Hercus Medal by Royal Society Te Apārangi for his research on prostate and kidney cancer.
Professor Brett Delahunt is an internationally recognised pathologist from the University of Otago, Wellington. His scientific work and insight have been central to the development of an internationally accepted classification system of important prognostic markers for prostate and renal cancers.
Professor Delahunt has used basic cell science, pathology techniques and genetic approaches to facilitate a better understanding of genito-urinary neoplasia (new tissue growths). His scientific publications and leadership in this area have made a contribution to greatly improved prediction of patient outcomes.
His work has focussed primarily upon neoplasia of the kidney and he has been responsible for the identification of novel types of malignancy. The grading system for renal neoplasia that he formulated and validated is now the gold standard, being endorsed by the World Health Organization. Outcome prediction of these tumours is assessed worldwide using this grading system with 50,000 cases diagnosed annually in the US alone.
In the field of transitional pathology he was co-chair of an international group that made recommendations for reporting criteria, specimen handling, staging, microscopic assessment and molecular studies of prostate cancer. More recently he was chair of an international consensus conference that formalised contemporary recommendations regarding the diagnosis, pathology reporting, classification and prognostic assessment of kidney cancer.
In the field of prostate cancer Brett is also recognised as an international leader. He is one of the lead authors on the recent publication that developed and validated a novel grading system for prostate cancer. He has been a strong advocate for prostate cancer testing and The Prostate Cancer Foundation of New Zealand, the leading advocate for men's health in this country, appointed him National Patron in 2015 in recognition of his major contributions in this area.
Brett has been prolific in his outputs, with a total of 421 publications, including 338 in peer reviewed journals.
He has contributed extensively to the medical profession and healthcare by serving on many government committees and executive positions in numerous international societies including President of the International Academy of Pathology, Australasian Division; President of the International Society of Urological Pathology, President of the New Zealand Society of Pathologists and an international member on the College of American Pathologists' Urogenital Reporting Panel amongst many others. He is long-standing Editor-in-Chief of the leading international journal Pathology.
In awarding this medal, the selection committee said: "Professor Delahunt is an outstanding New Zealander who has used his scientific and specialist medical training to discover the most important prognostic features of genito-urinary cancers. His scientific studies and his scientific leadership have changed the way that these malignancies are understood, graded, managed and treated worldwide, with major benefit for patients."
In accepting the award Professor Delahunt expressed his thanks to his many international collaborators for their support. "I am delighted that our various contributions to advance both urological pathology and men's health have been recognised by Royal Society Te Apārangi."
Brett has received numerous awards and accolades during his professional career. These include the highest honours bestowed by the Royal College of Pathologists of Australasia (Gold Medal as Distinguished Fellow), the International Academy of Pathology, Australasian Division (Distinguished Pathologist Award), the New Zealand Society of Pathologists (Distinguished Service Medal) and the International Society of Urological Pathology (Koss Medal). He was appointed an Officer of the New Zealand Order of Merit for services to pathology in 2004. In 2015 he received the National Meritorious Award of the Cancer Society of New Zealand for outstanding contributions to the society and to cancer research. He was made a Fellow of Royal Society of New Zealand in 2012. He has also received numerous teaching awards, including the Dean's Medal of the Wellington School of Medicine.
Hercus Medal:
For excellence in molecular and cellular sciences, biomedical science or clinical science and public health.
Citation:
To Brett Delahunt for his internationally recognised contributions as a pathologist, especially in relation to kidney and prostate cancer.

ENDS
Background information
The New Zealand Research Honours is held each year by Royal Society Te Apārangi to celebrate the achievements of New Zealand researchers by awarding a number of medals and awards. The Health Research Council of New Zealand also awards medals at the event.
About Royal Society Te Apārangi
Royal Society Te Apārangi is an independent not-for-profit organisation that supports all New Zealanders to explore, discover and share knowledge.
Its varied programmes provide funding and learning opportunities for researchers, teachers and school students, together with those who are simply curious about the world.
To celebrate the discoveries of New Zealand researchers, the Society awards medals and elects Fellows, who are leaders in their fields.
These experts help the Society to provide independent advice to New Zealanders and the government on issues of public concern.
The Society has a broad network of members and friends around New Zealand and invites all those who value the work New Zealanders do in exploring, discovering and sharing knowledge to join with them.
To discover more visit royalsociety.org.nz