Media Release
Research For Life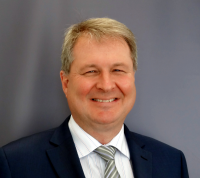 Research For Life appoints Dr Lance Lawler as Board Chair
Dr Lance Lawler, the former chief executive and one of the founding partners of Pacific Radiology Group, has been appointed the chair of the Research for Life board. Lance joined Research For Life's board in July last year and succeeds Professor John Nacey who has led the board since 2000. Prof. Nacey will continue to serve as a board member.
Outgoing chairman Prof. John Nacey said, "Lance is a Diagnostic and Interventional Radiologist with special interests in healthcare administration, heart and body imaging, and President of the Royal Australian and New Zealand College of Radiologists.
"He is enthusiastic about not only contributing to Research For Life but to helping advance the quality of healthcare in the Wellington region and beyond."
A graduate of Otago Medical School, Lance completed his radiology training in Christchurch, he subsequently completed the Harvard Program for Leadership Development, for high potential leaders and executives.
Dr Lawler acknowledged Prof Nacey's contribution to Research For Life saying, "His leadership has re-energised the former Wellington Medical Research Foundation, secured its future and ensured it provides much-needed support to young and emerging researchers. We are privileged that he has been prepared to devote time and energy to the organisation and that he has chosen to continue as to serve as a board member."
John Nacey is a Urologist and Professor of Urology at the University of Otago's Wellington School of Medicine. He specialises in men's health and prostate disease and has published extensively in this field. As past examiner for the Royal Australasian College of Surgeons, he has maintained his interest in teaching both undergraduate medical students and postgraduate surgical trainees. He has widespread community involvement which includes membership of the New Zealand Medical Council where he chairs that organisation's Education Committee. He is a strong advocate for promoting men's health.
Established in 1960, Research For Life funds innovative quality research undertaken by researchers in the early stages of their careers.
This year, Research for Life made 11 research grants and 10 travel grants worth $203,698 in total. Recent projects funded included research into the basic understanding of cancer, kidney disease and conditions of particular concern in the Wellington region, such as asthma.
Grant recipients were from several Wellington institutions including the Malaghan Institute of Medical Research, Victoria University of Wellington's School of Biological Sciences, the University of Otago's Wellington School of Medicine and Health Sciences, Massey University Wellington and ESR (The Institute of Environmental Science and Research).
Lance Lawler said, "While Research For Life's primary role is to provide grants to young and emerging researchers who undertake medical and biomedical research that is vital to continuing improvements in health outcomes in the community, we are also looking to broaden our support base in order to enhance our ability to work in partnership with the research community and increase the number of grants we make to local researchers."
ENDS