Blog
Research For Life
Research For Life's first Annual Appeal is under way with a vengeance with this dominant ad in today's Dominion Post.
It marks a significant departure for the organisation as it seeks deserved recognition and public support for its mission to double its funding of medical research in the Wellington region.
Please read the press ad copy below the ad image.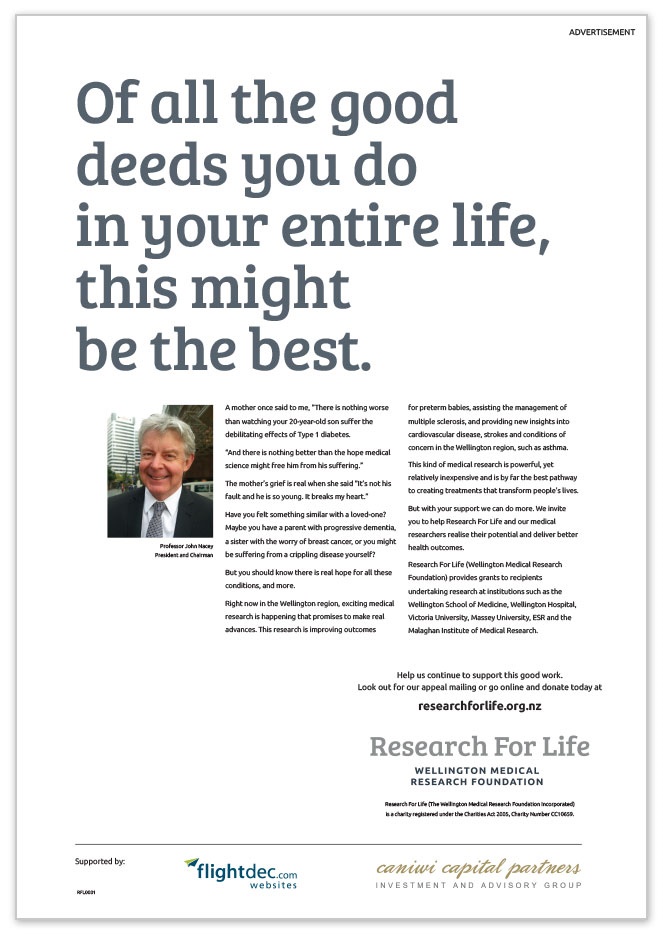 Of all the good deeds you do in your entire life, this might be the best.
A mother once said to me, "There is nothing worse than watching your 20-year-old son suffer the debilitating effects of Type 1 diabetes.
"And there is nothing better than the hope medical science might free him from his suffering."
The mother's grief is real when she said "It's not his fault and he is so young. It breaks my heart."
Have you felt something similar with a loved-one? Maybe you have a parent with progressive dementia, a sister with the worry of breast cancer, or you might be suffering from a crippling disease yourself?
But you should know there is real hope for all these conditions, and more.
Right now in the Wellington region, exciting medical research is happening that promises to make real advances. This research is improving outcomes for preterm babies, assisting the management of multiple sclerosis, and providing new insights into cardiovascular disease, strokes and conditions of concern in the Wellington region, such as asthma.
This kind of medical research is powerful, yet relatively inexpensive and is by far the best pathway to creating treatments that transform people's lives.
But with your support we can do more. We invite you to help Research For Life and our medical researchers realise their potential and deliver better health outcomes.
Research For Life (Wellington Medical Research Foundation) provides grants to recipients undertaking research at institutions such as the Wellington School of Medicine, Wellington Hospital, Victoria University, Massey University, ESR and the Malaghan Institute of Medical Research.
Photo – Professor John Nacey, President and Chairman
Help us continue to support this good work.
Look out for our appeal mailing or go online and donate today.