Media Release
Research For Life
Obese patient healthcare initiative receives research award
The successful work of a Victoria University of Wellington lecturer has been acknowledged with an Excellence in Research Award at the annual Capital and Coast District Health Board awards.
NEWS RELEASE: Victoria University, 22 April 2016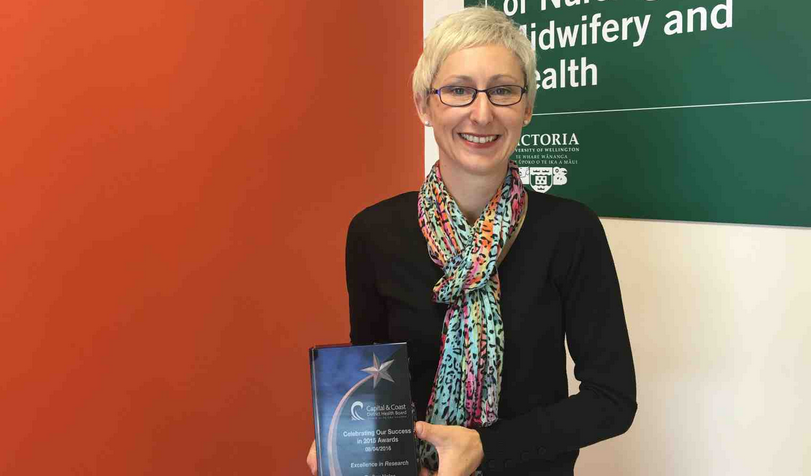 Dr Caz Hales is a lecturer at Victoria's Graduate School of Nursing, Midwifery and Health, and her PhD research has been used to improve the level of care provided to obese patients in the Capital & Coast healthcare system.
Dr Hales is the co-founder of Bariatric Management Innovation (BMI), which is a research-informed initiative that identifies ways to support overweight patients. The purpose of BMI is to ensure patients get the equipment they need to ensure time spent in healthcare promotes their successful recovery, as well as creating a safe and comfortable environment.
"We have implemented a care package that is issued to overweight patients within the first hour of entering Capital & Coast's care. Patients used to wait up to 32 hours for a large enough bed, chair, gown and other necessities. Now it is a matter of minutes until they are in an environment which is able to provide them with the professional healthcare they need."
Dr Hales says receiving the Excellence in Research Award was a welcome surprise and acknowledgement of the success of the BMI team's research. The Excellence in Research Award recognises Capital & Coast staff members who have published original and cutting edge research in high quality peer-reviewed journals. Dr Hales's research has been published in the International Journal of Nursing Studies.
Dr Hales says the proximity of the Graduate School of Nursing, Midwifery and Health to the capital city hospital is a real asset.
"Having the school within the hospital means I can continue to work here as a nurse while also being a Victoria University programme director and lecturer. I'm able to create strong connections with staff at the hospital and implement my research to effect positive change.
"I have been able to travel around New Zealand to discuss my work on BMI, and the Canterbury District Health Board is now implementing its own protocol for overweight patients to create a similar support system."
Dr Hales has worked on BMI with Lesley Gray from the University of Otago, Wellington, and Todd Bishop, who is the Chief Executive of Essential HelpCare, a company which provides equipment to hospitals and other healthcare providers.