Media Release
Research For Life
Pioneering drug discovery and development in Africa
VICTORIA UNIVERSITY NEWS RELEASE I 17 October 2016
A leading South African scientist's recent public lecture at Victoria University of Wellington brought to light Africa's growing expertise in health innovation.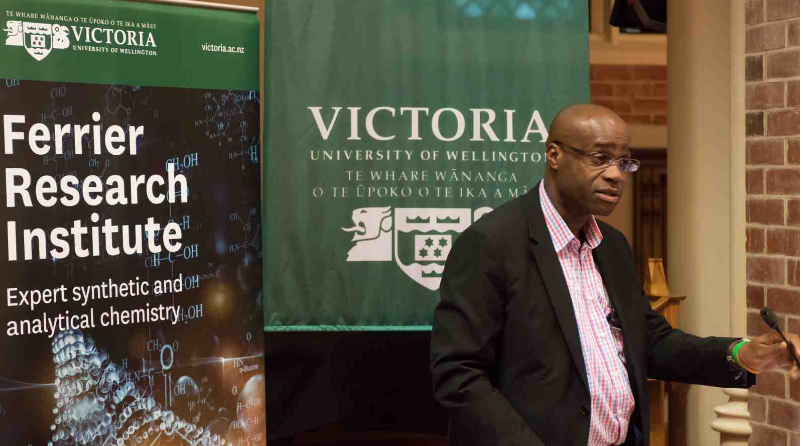 Dr Kelly Chibale, professor of Organic Chemistry at the University of Cape Town (UCT) and founding director of the UCT Drug Discovery and Development Centre (H3D), led a team that has discovered two new anti-malaria compounds with potential to contribute to the treatment, eradication and prevention of malaria.
The compound referred to as UCT943 is the second drug candidate to come out of the collaboration led by H3D involving the Switzerland-based Medicines for Malaria Venture (MMV) and an international network of partners. The first drug candidate, MMV048, has already entered the clinical trial stage.
The preclinical assessment of UCT943 is expected to take around 18 months, after which it is hoped it will progress into safety studies in human volunteers.
"Diseases are complex problems, and solving complex problems requires dedicated interdisciplinary teams with integrated skills," says Dr Chibale. "Drug discovery projects truly belong to the whole team as opposed to an individual. At H3D we've set up these integrated interdisciplinary teams and that is what allows us to move a drug from the lab to the clinic."
H3D is also targeting tuberculosis drug discovery and antimicrobial resistance. It is Africa's first integrated drug discovery and development centre, and has grown to a team of over 50 since its launch in 2010.
Dr Chibale says he is challenging the notion that Africa is not a source of health innovation.
"Drug discovery research and development is not about doing everything. With H3D we've chosen to focus on a platform that allows us to take a molecule from the laboratory to the clinic, and to build our expertise and knowledge around that.
"We're doing this well now and have managed to attract very experienced scientists from the western world, who have come to our labs in Africa from pharmaceutical companies in the United States and Europe, because they've seen that they can really contribute because we have the right environment."
Dr Chibale gave his lecture at Victoria University as part of a visit to Victoria's Ferrier Research Institute.
"A large part of my trip was a fact-finding mission—I wanted to see if there are ways we can work together in the future," says Dr Chibale.
"There are real overlaps in terms of what H3D and Ferrier are trying to do. Like Ferrier, H3D is embedded within a university. The university environment provides flexibility and creativity.
"Research makes a greater impact when it is translated, and there are innovation aspects to it. It's about how can we take advantage of the academic environment and academic ideas to provide translational aspects to basic science as in translational medicine wherein it's not just going from the lab to the patient, but also from the patient back to the laboratory."
Ferrier Research Institute Director, Professor Richard Furneaux says he also sees similarities between the H3D initiative in Cape Town and what Ferrier is striving for in Wellington.
"Dr Chibale's visit was initiated by Chris Whelan, chief executive of Wellington's Regional Economic Development Agency (WREDA). Dr Chibale's rapid acceleration of effort through major partnerships and financial support for infrastructure from the South African Government is an inspiration."
You can listen to a radio interview with Dr Chibale on Radio New Zealand's Saturday Morning hosted by Kim Hill.